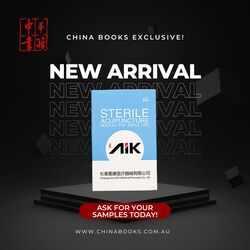 Foundations of Constitutional Facial Acupuncture
Facial acupuncture is a full constitutional treatment
that views the face as an extension of the
meridians of the body, which flow from the soles
of the feet to the crown of the head.

This three day workshop with Marney Commens
will introduce you to the world of Constitutional
Facial Acupuncture and give you the confidence
to practice Facial Acupuncture with ease.
During this three day workshop you will look at the basics of Facial
Acupuncture,the eight
extraordinary meridians within a constitutional
treatment, The use of
Physiognomy Read more >>
What's New at China Books
Acupuncture Points Handbook: A Patient's Guide to the Locations and Functions of Over 400 Acupuncture Points

by Deborah Bleecker


This book is written for clients with an interest in how acupuncture works. Each acupuncture point has unique functions, which are explained in plain English for the non-acupuncturist including clear meridian images, point locations and guidelines on how to perform Acupressure.

Perfect book to have in the waiting room for those client's with a keen interest in Acupuncture.